Life Begins Inside Your Comfort Zone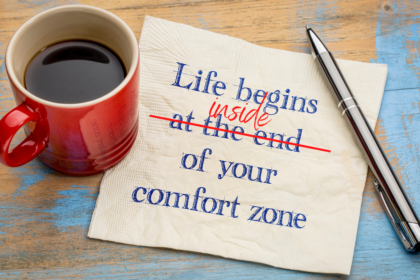 Many personal development coaches preach about how life exists outside of our comfort zones.
I believed that philosophy for many years and then I looked back at my life one day and realized, "You know what, I wasn't comfortable inside my comfort zone."
We are taught that inside our comfort zones we are not growing, or we are not challenging ourselves. And with that said, is our comfort zone really comfortable? Or are we just making our discomfort comfortable?
From my personal experience, my comfort zone was a big lie. My comfort zone involved being someone that I wasn't. And I masked that lie with unhealthy habits and thoughts. And as a result of those unhealthy habits and thoughts, my comfort zone, or my life, became very miserable. In my comfort zone I believed that I wasn't good enough and I did my best to make my discomfort comfortable by believing the lie.
Whenever I felt stressed or insecure, I would overeat, or indulge in comfort foods or alcohol, in order to try to feel better. I've sabotaged relationships, my finances, and my health when I was inside my comfort zone, because I was trying to make my discomfort comfortable.
My life became more comfortable when I began to learn and accept who I was. And I made better decisions to support that.
I am strong. I am courageous. I am healthy. I am good enough. And I do matter. I am comfortable with that.
The truth is, you have learned to make your discomfort comfortable and now it's time to break free. It's time to get comfortable with who you are. Once you do that, you will begin to make the choices that support your truth.
So instead of saying life begins at the end of your comfort zone, how about saying life begins inside your comfort zone.
Stop making the uncomfortable comfortable. Stop lying to yourself. Let's get out of your discomfort zone and step into your comfort zone.
Freedom is finding comfort in who you are.
Freedom is in finding comfort in knowing your true self.
Life begins inside your comfort zone.
Freedom is inside your comfort zone.
Until next time, go out there and achieve more freedom in your health and your life!
Dr. Leona